Thanks for visiting!  We are a diverse group of people with one common interest: to be on the water in good company. Our community is about enthusiasm as well as skill, determination as much as strength, and team effort.
We organize rows in Gloucester, Massachusetts with three pilot gigs and a dory. We're affiliated with the Maritime Gloucester center, which is a non-profit organization dedicated to the preservation of Gloucester's maritime industrial history.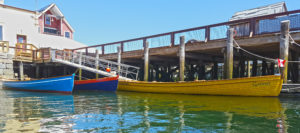 To learn more about the Gloucester Gig Rowers experience, browse these short videos as well as our other website pages and links, and if you're interested, please contact us.